Welcome to the Wild Grinders Wiki!

This wiki was based on Rob Dyrdek's Wild Grinders and proves
anyone who can edit
. There are
162
articles since February 26, 2012.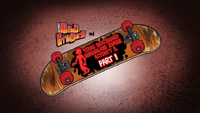 Wild Zombies
Texas Skateboard Horrorland Zombie Activity 3 is the 26th and final episode of the first season of Wild Grinders. This episode focuses the SkateyOh's contest being held at the haunted house. Resentfully, The Grinders, except for Lil Rob, are transformed into zombies.
To create this article, type in the box to create your article.Help us expand this wiki to add special contents!
Wiki tutorial | Help pages
Ad blocker interference detected!
Wikia is a free-to-use site that makes money from advertising. We have a modified experience for viewers using ad blockers

Wikia is not accessible if you've made further modifications. Remove the custom ad blocker rule(s) and the page will load as expected.