Here are a list of Wild Grinders comic issues. Each issue is found in each DVD.
The Race of Lil Rob vs Captain Grindstar
Edit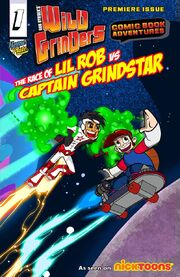 The Race of Lil Rob vs Captain Grindstar
is the first issue officially  created by Home Plate Entertainment. This issue will be inside of the
Adventures of Captain Grindstar
DVD.
Captain Grindstar holds a global racing competition, albeit only Lil Rob (Kid Voltage) and Stubford Hucksterball (Major Totally Rad Cool) participate, thanks to Stubford restricting every racer to participate by posting signs around Sprawl City. Lil Rob, Stubford, and Grindstar begins the race, while Stubford becomes too focused on winning, leading him to fall to the sewers. Grindstar and Rob race around the world and stop to rest at Captain Grindstar's home. The news interrupts, claiming that Lil Rob's mom, Patty, was missing, shocking the both.
Characters
Edit
Major Events
Edit
The Race of Lil Rob vs Captain Grindstar 2
Edit
Emo Crys isn't satisfied about this progress.

This article contains a spoiler alert for an upcoming episode or character
For more information about the spoiler alert, please ask the administrator. You may be warned, please read at your own risk.

The second issue, which has an unknown release date, but it will be inside of the second DVD release.
Characters
Edit
Ad blocker interference detected!
Wikia is a free-to-use site that makes money from advertising. We have a modified experience for viewers using ad blockers

Wikia is not accessible if you've made further modifications. Remove the custom ad blocker rule(s) and the page will load as expected.