Wild Grinders

Left to Right: Lil Rob, Meaty, Jack Knife, Emo Crys, Spitball, Goggles, and Jay Jay.

Director

Rob Dyrdek

Creator

Tracy Tubera

Voice Actors

Rob Dyrdek, Jimmy Benedict, Streling "Steelo", Cam Clarke, Erin Fitzgerald, Chanel West Coast, Tracy Tubera, Bill Schultz, Chris Cole, Rachel Curran

No. of Seasons

2

Original Run

April 27, 2012-February 12, 2015

No. of Episodes

26 (Season 1)
26 (Season 2)
Rob Dyrdek's Wild Grinders, recently known as just Wild Grinders, is an American animated series directed and produced by Rob Dyrdek, founder of DC Shoes and Alien Workshop and reality star of Fantasy Factory and Ridiculousness. It was first initiated as a toyline before being materialized as a TV series. The series' shorts and two, different episodes aired on only Moonscoop and Kabillion. On April 27, 2012, Wild Grinders begin its broadcasting on Nickelodeon's sister channel, Nicktoons.
The first season committed 26 episodes, that consist of two separate segments. According to the Nick and More website , a second season is confirmed by Dyrdek. The second season was submitted in December 23rd, 2013, prior to the Wild Grinders' Facebook page.
In fall of 2014, Wild Grinders is now promoted as one of the NickSports selections.
Wild Grinders ended with a series finale, as a two-parter Great Wheels of Fire, on February 12, 2015. After the release of Great Wheels of Fire, the show has a marathon, consisting every episode from both seasons, before it has re-runs later on.
The official Nicktoons site for Wild Grinders was moved to the original Nick site, almost having all of its episodes removed; only four episodes are shown.
Development
During development:

"I bought my first skateboard from my sister's boyfriend. I really looked up to him when I was 11 years old. He was the leader of a skate crew called the Street Rats. All I wanted to do was be a Street Rat but I was too young and the other kids in the crew didn't think I was a good enough skater. So I got my friends together and formed my own skate crew. I remember pacing in my bedroom trying to figure out the perfect name. And then it came to me like a vision... the WILD GRINDERS."
―Rob Dyrdek, Professional skateboard superstar and creator

The Wild Grinders characters made their first appearance in October 10, 2008, additionally its official website.
Synopsis
The skateboard themed series features the crazy hijinks and shenanigans of an energetic and thrill seeking skate-boarding pre-teen Lil Rob (based on the series's creator) and his best friends: Meaty, a British Bulldog with a hip edge (based on Meaty, a dog that the real Rob Dyrdek owns); Goggles, Rob's nerdy but loyal and kind-hearted best friend; and a host of other zany kids from the neighborhood, as well as Lil Rob's ugly majestic parents and older teenage sister.
Season 2 Description
"After a successful first season, getting the greenlight for season two of the animated series has allowed us to grow the show in so many creative ways – including really pushing the comedy. It has also been very rewarding to hear the support of the show's fans, who are now finding out about Wild Grinders and these crazy characters all over the world – as they grow in familiarity with the rest of my entertainment brands."
―Rob Dyrdek, Professional skateboard superstar and creator

A 15-second video is posted on both Instagram and Facebook, which there are a few voiceovers of Rob Dyrdek, portarying the voice of Lil' Rob continuously. The very first GIF rough draft of Lil' Rob is shown at the beginning of the video; among this process, Lil Rob's "WHAAAAAAAAAAATTTT?!?" reaction is posted for the very first time on an in-progress season 2. On an almost-near zoom in, Tracy Tubera, the head artist, makes an unspeakable cameo, showing a surprised reaction by himself.
On August 14, 2013, Rob Dyrdek proclaimed that the second season will be confirmed in December 23, 2013. New characters, such as Jagger Eaton, and his robot form, Jagger 2.0, will make major appearances in Season 2. Like its predecessor, the second season ordered 26 episodes.
Emo Crys isn't satisfied about this progress.

This article contains a spoiler alert for an upcoming episode or character
For more information about the spoiler alert, please ask the administrator. You may be warned, please read at your own risk.

Cast
Voice Actors
Rob Dyrdek: Lil Rob, Gene, Todd Topdeck.
Sterling "Steelo" Brim: Meaty (Season 1)
Lee Harrell: Meaty (Season 2), Talking Bull (Demolition Man, Man), Bigfoot (Call of the Wild Grinder)
Yuri Lowenthal (credited as Jimmy Benedict): Goggles, Jack Knife, Emo Crys (Online episodes, uncredited), Spitball, Officer Lackowski, Prince Xavier, Squeak, Dino, many audiences.
Cam Clarke:Emo Crys, Track Hucksterball, Jankins, Freddy, Agent 2 of Areas 50 and 1/2, Dead Narrator (ep S1-26), Papa Calzoni, many audiences.
Kel Mitchell: Jay Jay, Chip Fligginton, Queen of Moronico, Skatey the Skunk, Justin 4.0, The Invulnerable Snowman (The Amaazing Racers), many audiences.
Chanel West Coast: Flipz
Erin Fitzgerald: Stubford Hucksterball, Denise, Patty, Kate & Mary, Agent 1 of Areas 50 and 1/2, Fro-Yo Yubari (ep S2-02), Gino, many audiences.
Tracy Tubera: Captain Grindstar, Patty (Golden Grinders)
Bill Schultz: Commander Schultz
Rachel Curran: Butter Knife

Guest Stars
Chris Cole: Himself
Jagger Eaton: Himself
International Release
| Country/Region | Channel | Series Premiere | Title in Country |
| --- | --- | --- | --- |
| USA | Nicktoons | April 27, 2012 | Wild Grinders |
| Brazil | Globosat/Gloob | February 18, 2013 | Detonadores |
| Ireland | Cúla 4 | TBA | Wildgrinders |
| Canada | Teletoon | October 23rd, 2013 (TSHZA3 only) | Wild Grinders |
Etymology
Detonadores is simply translated as "detonators" in Portuguese.
Reception
Production
Wild Grinders is produced in a flash animation, and its first animation is found in 2010, and following in 2012 with a new animation skill in Nicktoons. The major voice cast continuously perform voiceovers of several of main characters, especially the minor characters, with the exception of Sterling "Steelo" Brim, Chanel West Coast, Tracy Tubera, Bill Schultz, Rachel Curran, and all-star skaters who are portraying their own "grinderized" characters.
Review
Wild Grinders receives negative review ratings, currently with a heavy 1.9/10 rating by IMDb and a 2.9/10 on TV.com. Wild Grinders should've become the "#1 worst cartoon show Nickelodeon has ever done."
Another useful example is that Emily Ashby of Common Sense Media gives Wild Grinders 2 out of 5 stars, worriedly explaining, "The show perpetuates some stereotypes surrounding this culture, including baggy-style dress, urban slang, and a lack of parental supervision, but it also has good things to say about how the kids' love of this pastime transcends racial divides."
Older viewers complain that the Wild Grinders television series is recklessly a rip-off and reboot combined of Rocket Power, another Nickeloedeon animated show, with slight to moderate similarities of not just Rocket Power itself but Johnny Test (for example, the thematic of a main protagonist and his anthropomorphic, talking dog, and the arch-enemy who has a short height and a plump body figure).
Social Feed
Wild Grinders' current social feeds are Instagram and Facebook, although they rise gradually. The series has its own YouTube channel; disappointingly enough, it remains in an extreme and impossible hiatus, until September 3, 2014 (the date that new episodes were released) with Ryan Sheckler's voice acting. The Facebook feed stopped so on in 2015.
Uncredited/Unidentified Roles
Although new/minor characters (ex. Mr. Sprinkles, Preston, etc.) make their debuts in several of episodes, Wild Grinders lacks information of them onwards, whose voice actors are identified unknown and rarely uncredited; thus, the original ending credits did not present them properly.
Promoted and chosen characters created by social artists like Swagy and Fox, have their debuts to be scheduled as unknown in the next season.
Marketing
The series' episodes is only available in ITunes, Amazon, and other media sites. Each half of the seasons have a price of $19.99.
The Wild Grinders official Facebook and Instagram pages announced that the first Wild Grinders DVD is scheduled to be released on March 17, 2015, dubbed as "The Adventures of Captain Grindstar", only consisting episodes that relate to the Wild Grinders becoming superheroes and the main Captain Grindstar, along with a comic book that can be rarely hidden in the case. The DVD debuted in Target and Walmart stores.
Other Media
In June 2014, it was announced that a Wild Grinders mobile game is being developed for iPhone, iPad and Android by Bubble Gum Interactive. The game is slated to launch in September 2014, and was officially dubbed as Wild Grinders Downhill Grind.
On November 25th, 2014, the Wild Grinders Twiiter page announced that it produced a comic book that is noted as a "premiere issue", titled as "Wild Grinders: Comic Book Adventures". Though, its whereabouts of its release date is not confirmed, and secondly, it is unknown whether it is a fraud or not. The first comic issue attached to the first Wild Grinders DVD is presented, with the other issues in progress.
Trivia
The Wild Grinders' new animations (from the TV series) make first appearances in the invasion video shown on Youtube; though their previous voice actors or tones from former online episodes were kept intact, until Nicktoons released their television series to switch voice actors.
Viewers thought that Wild Grinders is ridiculously a ripoff of Rocket Power, another Nickelodeon animated series which is shut down in 2004.
Another fact is that viewers teased that Wild Grinders is the "successor" of the Filipino-American, adult-animated sitcom, The Nutshack.

A few claimed that the animators behind The Nutshack have worked on Wild Grinders.
Gallery
Video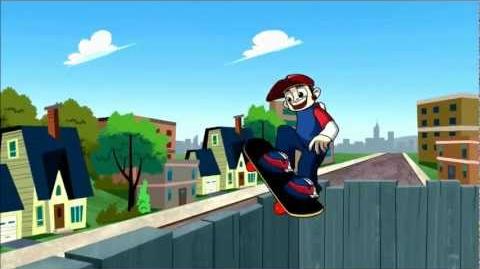 Ad blocker interference detected!
Wikia is a free-to-use site that makes money from advertising. We have a modified experience for viewers using ad blockers

Wikia is not accessible if you've made further modifications. Remove the custom ad blocker rule(s) and the page will load as expected.