Merry Grindernukamas
Season №:
Season 1
Season episode №:
24b
Overall episode №:
24b
Original airdate:
12/3/12
Directed by:
Ron Doucet
Written by:
Meghan McCarthy
Storyboard:
Dylan Edwards
Episode guide
Previous
Grinder Claus
Next
Take Me to Your Stubford
Merry Grindernukamus is the second half of the 24th episode of the first season of Wild Grinders.
Characters
Edit
Major Events
Edit
2nd time Christmas is seen
International Title
Edit
| Country | Dub | Translation |
| --- | --- | --- |
| Brazil | Férias em Família | Family Holidays |
Merry Grindernukamas shows some flashbacks of itself and a few scenes of Grinder Claus.
"...and this girl wants a Smarbie doll." was dialogged by Lil Rob, which is a parody of a Barbie doll.
Screenshots
Edit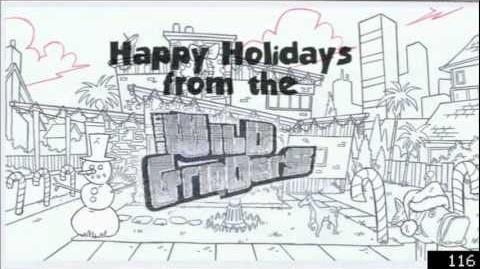 Ad blocker interference detected!
Wikia is a free-to-use site that makes money from advertising. We have a modified experience for viewers using ad blockers

Wikia is not accessible if you've made further modifications. Remove the custom ad blocker rule(s) and the page will load as expected.