Do you have what it takes to be part of the Wild Grinders crew? We want to see your drawings and designs of what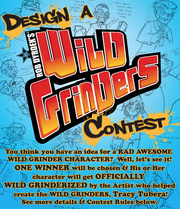 YOUR custom Wild Grinder character would look like! The Top 10 submissions will be chosen by Wild Grinders Creative Director and Executive Producer, Tracy Tubera. They will then be uploaded to the official
Wild Grinders facebook
page to be voted on by the fans! The most design with the most likes and comments will receive a DC Shoes prize pack AND your custom character will be 'Wild Grinderized' by Tracy, himself! Who knows, you might even see your character in a future episode of Wild Grinders!!
Email your submissions to wildgrindersart@gmail.com by Wednesday Aug 15th to be considered for the Top 10. Get your artist on and send in those characters!!
Description
Edit
It's been before September 7th since the Wild Grinders TV series did not air any new episodes. So, Tracy Tubera and Rob Dyrdek decided to post a Wild Grinders fan character contest to see which character can be provided as the new Wild Grinder character.
Closing the Contest
Edit
Here are the two winners of the Design a Wild Grinder Contest:
Best Male Character
Swagy
created by Robdier Burgos
Best Female Character
Fox
created by Kelssie Guinn
Congratulations to the artists who have won the contest! The two characters will be in the future episodes.
Ad blocker interference detected!
Wikia is a free-to-use site that makes money from advertising. We have a modified experience for viewers using ad blockers

Wikia is not accessible if you've made further modifications. Remove the custom ad blocker rule(s) and the page will load as expected.